Deprecated
: preg_replace(): The /e modifier is deprecated, use preg_replace_callback instead in
/home/eredan/forum/include/parser.php
on line
774
Deprecated
: preg_replace(): The /e modifier is deprecated, use preg_replace_callback instead in
/home/eredan/forum/include/parser.php
on line
774
Deprecated
: preg_replace(): The /e modifier is deprecated, use preg_replace_callback instead in
/home/eredan/forum/include/parser.php
on line
774
Deprecated
: preg_replace(): The /e modifier is deprecated, use preg_replace_callback instead in
/home/eredan/forum/include/parser.php
on line
774
Deprecated
: preg_replace(): The /e modifier is deprecated, use preg_replace_callback instead in
/home/eredan/forum/include/parser.php
on line
774
Staff Feerik

Inscription : 03-02-2012

Messages : 462
January 25th: The forgotten land!
The Forgotten
From now on and until 01/31/2013 09:00 AM (French time), a new trophy is available.
You can take part in this trophy during that precise lapse of time, after that it will not be available anymore. You can also buy this trophy for 199 Fee'z and acquire the title and the card associated with it.
Win 15 games during which you have played at least 2 different Magic Books.
You will earn the card named [card]The forgotten land[/card] and the title: The Forgotten.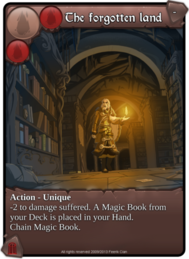 [card]The forgotten land[/card]: Action. Collector. Unique. -2 to damage suffered. A Magic Book from your Deck is placed in your Hand. Chain Magic Book.
Enjoy the game!